News and Information
---
Caprivi Sugar Cane Project Seeks Funding
November 7, 2007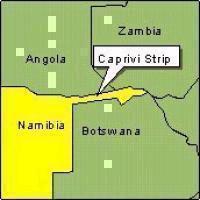 Caprivi Sugar Cane Project Seeks Funding
2007-11-05
By Petronella Sibeene

WINDHOEK

A multi-billion-dollar sugar cane plantation project planned for the Caprivi Region will start production by 2014 if more funds are secured.

During an investment conference that ended recently, Peter Prince of PGBI, a company that offers specialist services in sugar, timber and power industries, said the sugar project is the only practical way that would reduce poverty in that region as well as the country, considering the benefits to be derived from the project.

He said the venture calls for private-public partnership.

The project entails 10 000 hectares of sugar cane plantation to be irrigated with water pumped from the Zambezi River at a peak delivery of 11 m/s of water via a 33-kilometre canal. The cultivation land could be expanded to 15 000 hectares of cane requiring a water peak delivery of 14.1 m/s.

The project also involves a sugar milling factory and refinery to process 6 000 tonnes of cane and 250 tonnes of refined sugar per day and development of physical infrastructure such as the water canals, dykes, pump stations, roads and housing.

If appropriate funding is secured, infrastructural development such as digging canals for irrigation, factory construction and agricultural work would be done by the anticipated period, Prince said.

Local sugar production would reduce the need for imports.

The preliminary plan shows that apart from sugar production, there will be other by-products such as ethanol, traditional medicines and polishes.

Fibrous residue from sugar cane, called bagasse can be used as a fuel for electricity generation.

The project has potential to produce 100 million litres of ethanol a year and 26.5 megawatts in seven months.

Due to low global sugar prices, the plantation will not focus on the production of sugar only but also go into animal feed, fertiliser and alcohol
production from sugar residue.

"Electrical power can yield considerable benefits such as reducing the reliance on fuel imports," said Prince.

With the world now mo-ving over to unleaded petrol, ethanol, a by-product of sugar cane will find a lucrative market.

Ethanol can be used as fuel alone in special engines or as an additive to petrol for petroleum engines. It can also be blended with petrol in varying quantities to reduce the consumption of petroleum fuels, as well as to reduce air pollution.

Ethanol derived from crops such as sugar is a potentially sustainable energy resource that may offer environmental and long-term economic advantages over fossil fuel. Sugar cane has enough energy not only for sustained ethanol production, but also for generating surplus, that may be sold to utilities.

The soil in the region is rich in potassium and producing potassium from the crop would be used to further enrich the soil for crop production. Plans are afoot to plant fruit and vegetables as well.

Prince added that once funds are secured, the project is likely to create 128 000 jobs.

The project would change the whole economic situation in the Caprivi Region.

Feasibility studies into the project done in 1997 and also between 2001 and 2002 recommended that the Government should go ahead with a sugar plantation at Lake Liyambezi.

The Directorate of Extension in the Ministry of Agriculture, Water and Forestry on Friday said the project was not yet included in the development budget. However, the ministry is in the process of preparing a project identification file.

The project will also improve livestock farming in the region with the production of animal feed from molasses. Namibia buys its molasses from Mazabuka in southern Zambia and sugar from Mpumalanga in South Africa.
The sugar is packed locally in Tsumeb.


Source: www.newera.com.na
http://www.newera.com.na/archives.php?id=18207&date=2007-11-05
Support Caprivi Freedom
Fill out the form below to become a member of this site and receive our regular newsletter.