News and Information
---
Two more Caprivi treason accused die
September 19, 2007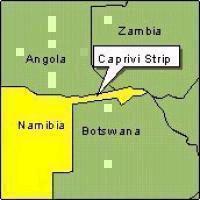 Two more Caprivi treason accused die

WERNER MENGES

TWO of the men charged in the main Caprivi high treason trial have died since the trial went into a seven-week recess at the end of July, Judge Elton Hoff was informed when the trial resumed in the High Court in Windhoek on Monday.

High treason accused Moses Limbo Mushwena died in Windhoek Central Hospital on August 12, the Commanding Officer of the Namibian Police's high treason investigation unit, Deputy Commissioner Abraham Maasdorp, confirmed yesterday.

A co-accused, Brian Museke Mboozi, died on Sunday after collapsing in the Windhoek Central Prison, where the men facing charges in the main high treason trial are being kept, Maasdorp added.

Efforts were made to stabilise Mboozi's condition in the prison before he was taken to the Katutura State Hospital, but he was pronounced dead soon after arriving at the hospital, Maasdorp said.

Mushwena was 44 years old.

He died nine days before what would have been his 45th birthday, according to Maasdorp.

He had been ill for some time, and had been admitted in hospital since July 18, the Deputy Commissioner said.

Mboozi was 50 years old.

According to Maasdorp he was "quite surprised" by Mboozi's death, and the indications by yesterday were that he might have died of a heart attack.

A post-mortem examination was to be done on Mboozi yesterday to establish the cause of his death.

Maasdorp said a post-mortem had been performed on Mushwena as well, and it was found that he had died of "natural causes".

A full post-mortem report on Mushwena was still being awaited, though, he said.

The Police have transported Mushwena's body to the Caprivi Region, where it was handed over to his family for burial, Maasdorp said.

The same would be done with Mboozi's remains, he said.

The two suspects' deaths bring the number of people who have died after being charged in the main Caprivi high treason case to 14.

Following their deaths, 117 accused persons remain on trial before Judge Hoff.

Mushwena and Mboozi both spent more than the last seven years of their lives behind bars without yet being convicted or sentenced in connection with their alleged involvement in a conspiracy to secede the Caprivi Region from Namibia.

In an affidavit in support of an ultimately failed challenge to the High Court's jurisdiction over him and 12 other accused in the trial, Mushwena has informed Judge Hoff that he was detained in Zambia on June 18 1999.

At that stage he was part of a group of six Namibians who had crossed into Zambian territory from Botswana, where they had been living as refugees since late 1998.

The Zambian authorities handed the group over to their Namibian counterparts on August 7 1999, and the entire group was arrested.

Mushwena had been detained in Namibia since then.

Well-known former Namibian Broadcasting Corporation announcer Stephen Mamili was also a member of the group detained in Zambia and later arrested in Namibia.

Like the rest of the group, Mamili was charged with high treason after the group's return to Namibia.

He died in custody on February 20 2000, becoming the second of the arrested high treason suspects to die before their trial could be finalised.

Mushwena had been employed as a teacher in the Caprivi Region before he left the country.

According to Police records, Mboozi was unemployed at the time of his arrest, Maasdorp said.

Mushwena and Mboozi are the first high treason accused to have died since the late Flannan Ntelamo died at the age of 35 on January 24 last year.

Before Ntelamo's death, the last high treason accused to have died in custody passed away during 2003, when three accused died.


Source: www.namibian.com.na
http://www.namibian.com.na/2007/September/national/07B959184D.html
Support Caprivi Freedom
Fill out the form below to become a member of this site and receive our regular newsletter.