News and Information
---
Caprivi in Meningitis Scare
September 5, 2007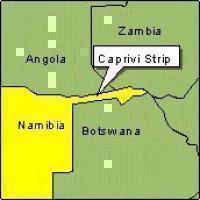 Caprivi in Meningitis Scare

Wednesday, 5th of September 2007

By Reagan Malumo

KATIMA MULILO

Fear has gripped residents of the Caprivi Region following reports that doctors at the Katima Mulilo State Hospital have detected two cases of meningitis.

This follows several other cases of the disease that were reported in the northern region of Oshikoto last week.

Meningitis is the inflammation of the meninges (brain membrane) caused by viral or bacterial infection and marked by intense headache and fever, sensitivity to light, muscular rigidity, and in severe cases may lead to convulsions, delirium, and even death.

The public has been urged to look out for any of these symptoms and rush to hospital for treatment should they appear.

According to the Chief Medical Officer at Katima Mulilo State Hospital, Dr Simasiku Kabanje, the disease was detected in a patient who came from Sachinga Village, some 60 km west of Katima Mulilo where the other patient also came from.

The doctor could not rule out the possibility of the disease having spread further in the region.

Despite this, Kabanje appealed for calm as health personnel have been dispatched to the entire region to carry out investigations on the ground to find out how far the disease has spread.

The disease, according to Kabanje, is caused by a bacterium called Nisseri Meningitites that can be transmitted from one person to another through breathing air, and body secretions in case of wound contacts. Sometimes, it can be transferred through respiratory discharges especially in children suffering from chronic nostril infection.

The fluid then spills through the spinal cord causing brain damage.

The disease spreads faster in densely populated areas such as schools, hostels and camps where there is a lot of interaction.

Meningitis can be treated using specialised antibiotics.

Should an epidemic be suspected, prevention can be done through immunisation.

He said the hospital is in the process of immunising all health workers at the institution which, he believes, is the only solution for those who might have been infected while offering treatment to infected patients.

"At the moment we have not yet decided to immunise the entire region," said Kabange, who explained that since the Caprivi has a population of approximately 90 000 an epidemic could only be considered if five out of one thousand people were infected.

Sensitisation campaigns have been launched in the villages as well as through the local NBC Silozi radio service.


Source: www.newera.com.na
http://www.newera.com.na/page.php?id=3558
Support Caprivi Freedom
Fill out the form below to become a member of this site and receive our regular newsletter.