News and Information
---
Residents Protest
August 16, 2007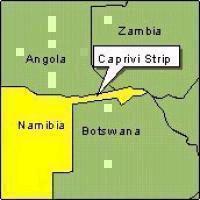 Residents Protest
Thursday, 16th of August 2007

By Reagan Malumo

KATIMA MULILO

"No service, no vote. No service no levy," was the slogan that greeted Caprivi Regional Governor, Bernard Sibalatani, when he received a petition from protesters yesterday.

The angry crowd, most of them residents of Mahohoma that is rated as one of the most impoverished informal settlements, took to the streets to voice dissatisfaction with the quality of service delivery.

Municipal services such as refuse collection and maintenance of roads at the town have generally been in a sorry state with some town councillors rarely visiting their constituencies.

Yesterday's demonstration is the second in two weeks after the residents of another informal settlement of Chotto also took to the streets demanding a reduction in the water tariffs at the location.

The protesters yesterday complained that Mahohoma settlement is the most neglected location in the town and that in 2005 the town council promised to set up ablution and other services at the suburb but until now, this has proven a hollow promise.

They said the fact that their location does not appear on the town council's map symbolised how its residents are being pushed into marginalization despite the freedom that the rest of the country enjoys and this slap in the face coming 17 years after independence.

They asked how long will the town council compel them to pay for their plots which have never been officially demarcated from the time the residential area was founded.

They said the town council only recognised them when the time to pay levies comes but they are most forgotten when it comes to service delivery.

"There are no streets just bush and sand; we need a change for better living conditions," they thundered, adding that there has never been a road network constructed to link the settlement to the main roads leading to other suburbs at the town.

They further stated that they do not welcome the new water meters installed at the informal settlement and that ever since, they have had to do with two taps of water that cater for 500 people.

"They must just come and remove their taps as we don't care, the Zambezi River is very near.

"We can fetch water from there," said one furious demonstrator, who further felt water provision should be wrestled from council's control and instead be handed over to NamWater because the water utility provides water professionally.

They also feel the present pipeline should be upgraded to increase the volume of water that is provided to residents at the town. They also demanded that a clinic be constructed at their location just as it is in other informal settlements such as Chotto and Cow Boy and that their demands are met before the rains start.

Persistently shouting " no service no vote, no service no levy," Sibalatani who is also the councillor for Katima Mulilo Urban Constituency tried to cool their tempers by assuring them that their problem had nothing to do with votes and that they should remain calm as their petition would be handed to the relevant authority.

Approached for comment, the Katima Mulilo Chief Executive Officer, Vincent Sazita, assured residents of Mahohoma that their suburb is one of those on the council's agenda for upgrading and formalisation.

He said that the town council was in the process of formalising all the four informal settlements of Chotto, Mahohoma, Butterfly and Cow Boy, and that all of these suburbs would be provided with proper ablution facilities, streets, water services and other sanitation. Sazita stressed that his council together with the Ministry of Regional and Local Government, Housing and Rural Development were still waiting for plans and maps which are due to be finalised with the assistance of Luxembourg Development in order for the programme to start.

He pleaded with the residents of the town to be patient as the programme is expected to last for three years.

Source: www.newera.com.na
http://www.newera.com.na/page.php?id=3330
Support Caprivi Freedom
Fill out the form below to become a member of this site and receive our regular newsletter.