News and Information
---
Treason accused loses 'confession' battle
July 19, 2007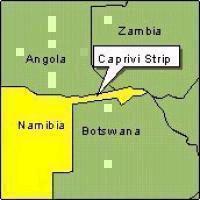 Treason accused loses 'confession' battle

WERNER MENGES

A HARD-FOUGHT dispute that has occupied the main Caprivi high treason trial since April this year at long last reached a conclusion this week with a ruling that an alleged confession made by one of the men who is being accused in the trial is admissible as evidence.

The trial before Judge Elton Hoff in the High Court on the grounds of the Windhoek Central Prison has since April 10 been dwelling on an alleged oral confession that former Police Constable Mathews Pangula, who is one of the 119 accused men on trial is claimed to have made to the Station Commander of the Katima Mulilo Police Station, Chief Inspector John Lifasi, on August 2 1999.

An objection by Pangula's defence lawyer, Percy McNally, against the admissibility of the alleged statement in mid-April took the trial into a side hearing in which Judge Hoff had to determine whether testimony about the statement would be allowed as evidence in the trial.

The trial within a trial continued when the main trial resumed in early June after a recess of a month and a half.

It finally reached a conclusion with a ruling in favour of the prosecution given by Judge Hoff on Monday.

However, while the Judge ruled that evidence about the alleged confession at the centre of the trial within a trial could be admitted as evidence in the main trial, he also had some less favourable remarks to make that may still return to haunt the prosecution once the trial nears its end.

Those were remarks about the impact that the State's practice of not disclosing statements outlining the expected testimony of prosecution witnesses to the defence earlier than a few days before the witness is actually due to testify, may ultimately have on the fairness of the trial.

McNally's objection against evidence being produced on the alleged confession was based on a claim that Pangula had been assaulted by Police officers before he made such a statement.

According to Lifasi, Pangula did not report for duty at the Police station on the morning of August 2 1999.

In the early hours of that morning the Police station, the Namibian Broadcasting Corporation offices at the town, the Mpacha military base outside Katima Mulilo, the Katounyana Special Field Force Base at the town, and the Wenela Border Post near the town were among targets that came under surprise attack from suspected armed separatists aiming to force the secession of the Caprivi Region from the rest of Namibia.

Lifasi testified that after Pangula eventually reported for duty at about 19h00, he was questioned about his whereabouts during that day.

Pangula firstly told him that he had been afraid of the shooting that took place at Katima Mulilo that day, Lifasi claimed.

He continued that Pangula secondly related that he had received a message from his home village in the Kalumba, informing him that his relatives there were without food.

He then borrowed a vehicle from one Dunbar Mushwena to deliver maize meal to his relatives, Pangula is claimed to have said.

Mushwena is an exiled former Caprivi Region resident who is now a high treason suspect in Namibia.

A request from Namibia for him to be extradited from Botswana was refused by Botswana's Court of Appeal in July 2004.

According to Lifasi, Pangula told him that when he returned the vehicle to Mushwena, the latter asked Pangula to accompany him.

Pangula reported, according to Lifasi, that he was asked to drive Mushwena's vehicle to the Mpacha area, where he was told to stop.

There he saw armed men coming out of the bush and getting onto the vehicle.

He was then told to drive back to Katima Mulilo, where some of the armed passengers disembarked at a place between 500 and 800 metres from the Police station and Pangula loaded off a second group at the NBC offices.

He said he then returned home, Lifasi testified.

Pangula's explanation for "transporting rebels" and not reporting that to his superiors in the Police, Lifasi related, was that he had been afraid that he might be killed.

Pangula was disarmed and arrested after making this alleged confession, Lifasi told the court.

According to Pangula, he witnessed people being assaulted at the Police station after he had reported for duty on the evening of August 2 1999.

His turn came later, he said, after he had been asked where he had been during the attack on the Police station.

He was first hit with the barrel of a rifle on his head, and was then also beaten with sjamboks.

"He admitted to everything in order to save his life," Judge Hoff summarised part of Pangula's testimony.

Having confessed, he was beaten further the next day, and also on the day after that, when he was stripped naked and again beaten, Pangula told the court.

Lifasi denied having assaulted Pangula himself, or having been present when Pangula was allegedly assaulted.

Judge Hoff accepted, though, that based on the evidence before him there was a real possibility that Pangula had been assaulted whilst in the custody of the Namibian Police.

However, in a statement that Pangula had made to the Police on September 21 1999, and in a civil claim that he instituted against Government in July 2000, he only mentioned having been assaulted on August 4 1999, Judge Hoff noted.

Having regard to this and to "numerous material contradictions, exaggerations" and other shortcomings in Pangula's case in the trial within a trial, the Judge concluded that Pangula had "adjusted his evidence in such a manner to incorporate assaults allegedly perpetrated on him on August 2 1999 with the obvious and desperate aim to have the confession declared inadmissible".

Judge Hoff rejected a claim that the alleged confession had been suggested to Pangula by Police officers.

What Pangula conveyed to Lifasi, was done freely and voluntarily and without any undue influence being exerted on Pangula, Judge Hoff concluded.

The trial is continuing on Monday.


Source: www.namibian.com.na
http://www.namibian.com.na/
Support Caprivi Freedom
Fill out the form below to become a member of this site and receive our regular newsletter.