News and Information
---
Caprivians are not Namibians
June 22, 2007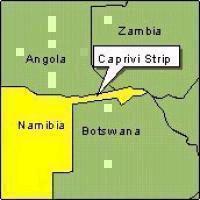 Caprivians are not Namibians

We the Caprivians in exile are disappointed by the statement made by acting judge Manyarara of Zimbabwe, on the 30th may 2007 when delivering a Judgment to the two (2) of the twelve (12), Vincent Sinasi and Vincent Siliye. Manyarara, distorted the history of Caprivi by saying "the state has proven beyond reasonable doubt, that they are Namibian citizens"

In the history of South West Africa (Namibia) and Caprivi, there is nowhere, where historian have ever proven that Caprivi had been part of Namibia. The only time Caprivians and southwest Africans came to know each other was in exile in Zambia in 1964.We met there in exile as different freedom fighters from different liberation movements with the same Objective "to liberate" our two different countries.

We met and came together because the OAU liberation committee urged that CANU and OPO should join together in order to operate militarily against their common enemy, who colonized both Caprivi and southwest
Africa(the boers)

In that year 1964 after the two parties came together Sam Nujoma made a statement at Mamboba in Zambia, we quote "comrades our two parties CANU and OPO have come together to fight against our common enemy for the liberation of our two countries Southwest Africa and Caprivi Strip,after liberation each country shall be independent".

Mr. Sam Nujoma the former president of Namibia who made this statement is still alive, equally the Caprivians he was addressing are still alive. Therefore acting judge Manyarara and the uninformed should not distort our history. For judge Manyarara not to be biased he should read the Namibian act of 1999 that was passed by the Namibian parliament when we were already confronting our enemy Namibia. The act is called the application of laws to the Eastern Caprivi Zipfel act ,1999.

The press release of 1964 after the merger in Zambia between CANU and OPO clearly states in the first paragraphs that two countries met to fight their common enemy, we therefore would like to inform the government of Namibia and its judge called Manyarara that the history of Caprivi shall one day come true even if you distort it today.

We have the following demands as united Caprivians both at home, in the Namibian prisons and in exile:

1. DO NOT CALL US NAMIBIANS, BECAUSE WE ARE CAPRIVIANS

2. WE SHALL NEVER BE NAMIBIANS BUT CAPRIVIANS

3. WE ARE COLONISED BY FORCE BY THE NAMIBIAN GOVERNMENT, THUS WE DEMAND FREEDOM NOW

4. WE DEMAND OUR INDEPENDENCE

5. WE DEMAND A PEACEFUL NEGOTIATION BETWEEN THE NAMIBIAN GOVERNMENT
AND UDP LEADERSHIP

6. WE DEMAND A REFERUNDAM UNDER THE SUPERVISION OF THE UNITED NATIONS

7. WE DEMAND AN INDEPENDENT BOARD TO PROVE TO THE WORLD AND THE NAMIBIAN GOVERNMENT, IF DOUBTS EXIST, THAT WE DO NOT WANT THEM AND THAT THEY ARE OCCUPYING US BY FORCE AND HAVE ALWAYS FOR MANY YEARS.

8. WE DEMAND FOR CRITICAL ASSESSMENT FOR THE TERM (HIGH TREASON), BECAUSE IT FALLS AWAY FROM CRIMINAL ACT, BUT A POLITICAL ONE, WE THEREFORE,DEMAND THOSE ON TREASON TRIAL TO BE TREATED AS POLITICAL PRISONERS AND FREEDOM FIGHTERS.

To the Namibian government we end by saying, a true African nationalist will never colonize others. The illegal occupation of the Caprivi, by Namibian government is nothing else but colonialism.

ALUTA CONTINUA
EXILED CAPRIVIANS
A UNITED VOICE FOR ALL
CAPRIVIANS FOR INDEPENDENCE
UDP- UNITED DEMOCRATIC PARTY.

Source: www.caprivifreedom.com
Support Caprivi Freedom
Fill out the form below to become a member of this site and receive our regular newsletter.