News and Information
---
Caprivi issue 'far from over'
June 14, 2007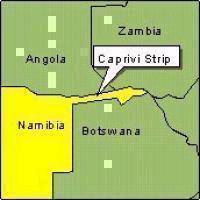 Caprivi issue 'far from over'

WERNER MENGES

PROPER political dialogue is needed to resolve whether the Caprivi Region is part of Namibia or not, acquitted former Caprivi high treason suspect Vincent Siliye argued in Windhoek yesterday.

Two weeks after he and a co-accused in the second Caprivi high treason trial, Vincent Sinasi, were acquitted by Acting Judge John Manyarara, Siliye addressed the media at a press conference at the head office of the National Society for Human Rights in Windhoek.

Siliye (38) and Sinasi (47) were acquitted after Deputy Prosecutor General Danie Small conceded in his closing arguments that the prosecution had not succeeded in proving its case against the two men.

The other 10 men who stood trial with Siliye and Sinasi on six charges connected to allegations that they had been part of a conspiracy to secede the Caprivi Region between September 1998 and December 12 2003, are scheduled to hear Acting Judge Manyarara's judgement on the charges against them on July 30.

His co-accused should have been acquitted with him and Sinasi, Siliye said yesterday.

In fact, he added, none of them should have been put on trial in the first place, because they were illegally abducted from Botswana in order to be arrested and charged with high treason in Namibia.

During often stormy and disrupted court proceedings in the trial, Siliye emerged as a spokesman for the 12 men in the dock.

On various occasions when he addressed the court on the group's behalf, he disputed the court's jurisdiction over the 12 by declaring that they considered themselves to be Caprivians and not Namibians, that they were Caprivians in a court of a foreign country, and that as a result of this such a court did not have authority to judge them.

During the press conference yesterday, Siliye was asked how it felt to be acquitted by a court which he did not recognise, and then to accept that acquittal.

"What should not be lost sight of is in the first instance I was not even supposed to be there," Siliye replied.

"Like it or not: the charges were politically motivated.

The arrest and detention were politically motivated."

He added later: "I am now an ex-political prisoner under the Swapo Government.

As I said, my arrest, detention and whatever I went through were politically motivated."

On a question whether he still considered himself to be Caprivian, and not a Namibian by nationality, Siliye answered: "I was born a Caprivian from my mother's womb.

(...) Caprivi is not - not only legally or illegally - but Caprivi is not part of Namibia.

Historically and geographically Caprivi is not part of Namibia."

He added at a later stage: "What I believe in is I'm a Caprivian.

End of story."

He made no mention about being a Namibian as well.

On another question about whether he thought he owed any allegiance to Namibia as a state, Siliye answered: "This is not a yes or no answer.

(...) Look at the history, look at geography.

(...) In the struggle for Independence, even Mr Muyongo, when he went to exile, even Mr Nujoma when he went to exile, they were having South African identity cards.

That doesn't make you a South African."

Siliye said politicians should address the issue of the status of the Caprivi Region "with wisdom".

To do this, President Hifikepunye Pohamba would have to negotiate with Mishake Muyongo - the former Swapo Vice President, former DTA president, and currently exiled alleged secessionist leader - about the region's status, Siliye said.

The problem that he sees around the region's contested position is an inheritance from the way foreign colonial powers drew the borders for their colonies in Africa in the late 19th century, Siliye indicated.

Where people still had a problem with colonial borders, that problem has to be resolved, he argued: "Where the people are satisfied, let us not create a problem.

But where there is a problem, let us clear it."

At the moment, Siliye said, the people of the Caprivi Region are living in fear and are not free to express themselves on the region's status as part of Namibia.

"What is being done by the Government of Namibia is totally undermining the freedom of expression, freedom of thought, and putting fear on the people of Caprivi," he said.

"We should talk.

Because now the people of Caprivi are living in fear."


Source: www.namibian.com.na
http://www.namibian.com.na/
Support Caprivi Freedom
Fill out the form below to become a member of this site and receive our regular newsletter.