News and Information
---
Second treason trial heads for last stages
May 24, 2007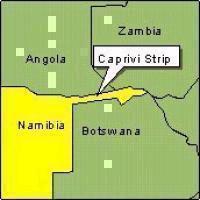 Second treason trial heads for last stages

WERNER MENGES

CLOSING arguments before the verdict in the second Caprivi high treason trial is to be delivered are scheduled to be heard in the High Court in Windhoek on Monday.

Acting Judge John Manyarara was supposed to start hearing the prosecution's closing arguments in the trial yesterday.

However, when the 12 accused men appeared before the Acting Judge in the High Court in Windhoek, Deputy Prosecutor General Danie Small asked the court for a postponement of the hearing of arguments until Monday.

Small told the court that he was still finalising the written arguments that will be provided to the court.

He added that because the 12 men were absent from much of the proceedings in the trial, the prosecution was faced with some peculiar difficulties at this stage of the matter.

In the absence of the accused men, witnesses who gave testimony could not follow the normal procedure of identifying someone in the dock as the person that they mentioned in their testimony, Small explained.

As a result, he said, the State might have to make some concessions to the court in its arguments.

Small said it was his duty not only to indicate to the court in what respect the accused men were implicated by the evidence heard during the trial, but it was also his legal duty, especially in a trial like this where the accused had refused to take part in proceedings and cross-examine witnesses, to point out to the court where an accused should receive the benefit of the doubt.

The trial, of which the main part started in March last year, has been marked by the 12 men's stubborn stand against participating in proceedings.

They have repeatedly told the court that they viewed themselves as Caprivian nationals, and not as Namibians, and that they had no interest in playing any part in the trial in which they are accused of committing crimes against the Namibian state.

The 12 accused men are Progress Kenyoka Munuma, Shine Samulandela Samulandela, Manepelo Manuel Makendano, Vincent Liswaniso Siliye, Vincent Khasu Sinasi, Alex Sinjabata Mushakwa, Diamond Samuzula Salufu, Frederick Isaka Ntambilwa, Hoster Simasiku Ntombo, Boster Mubuyaeta Samuele, John Mazila Tembwe and Alex Mafwila Liswani.

They are facing six charges, including counts of high treason, sedition, and illegal importation and possession of firearms, in connection with allegations that they had taken part in an alleged plot to secede the Caprivi Region from Namibia between September 1998 and December 2003, when the last members of their group were arrested.

They have all remained in custody since being arrested, with the earliest of their arrests having taken place on July 18 2002, while the last arrests were carried out on December 12 2003.


Source: www.namibian.com.na
http://www.namibian.com.na/
Support Caprivi Freedom
Fill out the form below to become a member of this site and receive our regular newsletter.