News and Information
---
Elections soon?
April 20, 2007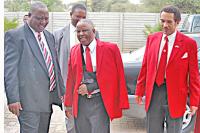 Elections soon?

AUBREY LUTE
But most observers say the idea is far-fetched

BDP Secretary General, Daniel Kwelagobe (left) is seen here with the President Festus Mogae and the Vice President Retired lieutenant General Ian Khama. He dismisses the possibility of early elections, but is he privy to information?
Speculation of early general elections has been dismissed by the Secretary General of the Botswana Democratic Party, who is also Minister of Presidential Affairs and Public Administration, Mr Daniel Kwelagobe. Kwelagobe is also Minister in charge of elections. His response was short: ?There is nothing like that, who said it??
According to information reaching The Gazette , some Cabinet Ministers want to propose that Parliament be dissolved soon and elections be held. The Gazette is informed that President Festus Mogae was not pleased by what took place in the last session of Parliament when BDP MPs gave the Executive a hard time over some Bills and proposed projects.

Discussion of early elections come at a time when some of the BDP MPs are not in the good books of the Party leadership because of their outspokenness in Parliament. ?This would be an opportunity to see some of them off because every parliamentary candidate is vetted by the Central Committee,? one insider said.

But other BDP activists are skeptical. ?It would be a dicey decision because it can mean a change of Government. Some of the BDP MPs - especially Ministers - are not safe because of their marginal wins in the 2004 elections,? said a BDP activist. If early elections were announced, they would take the Opposition, especially the BNF who are considered to be unready for elections, by surprise.

Botswana National Front (BNF) Secretary General Akanyang Magama said he did not think it would happen, but ?really speaking MPs should not be expected to rubberstamp what is proposed by Cabinet.? He said it would be unfortunate if Parliament were dissolved because MPs had done a sterling job. Commenting on behalf of his Party, Magama said they were ready ?should anything of that sort take place.? The BNF ?s new central committee will be elected on May 19th and 20th.

Some top Botswana Democratic Party (BDP) leaders are said to be in support of the idea but are still hesitant to go into full discussion about it. At least one Minister supports the idea wholeheartedly. Assistant Minister of Agriculture Oliphant Mfa, said, ?It is better for Parliament to be dissolved because there is no progress,? he said. Mfa said there was no point in having a Parliament that cannot pass laws.

?People are suffering in the villages because policies are not approved,? he said. According to Mfa it is better for the President to call early elections so that he can be given a fresh mandate. Some politicians speculate that the idea has been thrown out to scare some vocal MP?s into being compliant, fearing that if they continue speaking out, they would not be allowed to stand for parliamentary primary elections.

However most BDP MPs contacted on the issue did not see Mogae calling early elections because he does not want to run the risk of being the first president to dissolve Parliament prematurely as it might set a bad precedent for the country?s democracy.

Several BDP MPs said the rumour was news to them and said it was far-fetched. Botsalo Ntuane, Specially Elected MP, did not take the idea seriously, ?because there is no constitutional or political crisis in the country. He called the idea ?laughable.? If indeed Parliament were to be dissolved, it would be cause for concern. Ntuane said Botswana has a functioning Parliament and there are no valid grounds to dissolve it.

While it is the constitutional prerogative of the President to dissolve Parliament, Ntuane said it is legitimate expectation for Batswana to want to understand the cause. It was news as well for Gaborone North legislator, Keletso Rakhudu, who said early elections might be an expensive exercise.

Dr Zibani Maudeni, a political science lecturer at the University of Botswana said it would be an interesting development because President Mogae is just about to retire. ?I do not think he would lead the BDP if early elections were to be called,? he said.


Source: www.gazette.bw
http://www.gazette.bw/
Support Caprivi Freedom
Fill out the form below to become a member of this site and receive our regular newsletter.