News and Information
---
Court asked to transfer ill treason suspect
April 2, 2007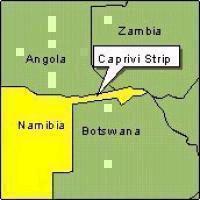 Court asked to transfer ill treason suspect

WERNER MENGES

ONE of the 119 men facing charges in the main Caprivi high treason trial is so gravely ill that three doctors have recommended that he can no longer stand trial and should be sent to Katima Mulilo to be closer to his family.


Defence counsel Winnie Sithole Mwenda conveyed these opinions about the state of health of one of her clients in the trial, former Government employee Fabian Samiyasa, to Judge Elton Hoff on Tuesday last week.

She asked the Judge to issue an order that would authorise the transfer of Samiyasa from Windhoek Central Prison to Katima Mulilo, where she said he would be closer to his relatives "for emotional and material support".

The 45-year-old Samiyasa has not been attending proceedings in the trial for about the past year.

According to medical reports that were provided to Judge Hoff last week, Samiyasa is a very ill man.

In the one report one by a private doctor who has seen Samiyasa, he is diagnosed as terminally ill.

In another report by two other doctors who examined Samiyasa at the request of the prosecution in order to get a second opinion on his condition, he is pronounced as severely ill.

In that second report, the doctors stated that in their opinion Samiyasa is not fit to be in prison, and that he should be transferred to Katima Mulilo State Hospital.

The private doctor who has been seeing Samiyasa, Dr Pierre le Grange, made a similar recommendation to the Prisons Service in a first report on Samiyasa's condition that he wrote on January 23 this year.

He advised at that stage that Samiyasa should be transferred to Katima Mulilo, where he can be kept in custody and can continue to receive medical treatment at the Katima Mulilo State Hospital, "so that he could be close to his relatives for moral support."

In a second report on Samiyasa's condition, dated March 20, Dr Le Grange added that Samiyasa suffered from dementia.

"His dementia prevents him from being a coherent witness," the doctor stated.

"He is at this stage not fit to stand trial or defend himself.

Samiyasa was employed in the then Ministry of Agriculture, Water and Rural Development when he became one of the scores of people to be arrested in the wake of surprise armed attacks that alleged secessionists are accused of having carried out against targets at Katima Mulilo on August 2 1999.

So far during the drawn-out trial, Samiyasa's name has been mentioned by a succession of witnesses who claimed that he was present at a gathering point in the Makanga area, some 70 kilometres southwest of Katima Mulilo.

Witnesses claimed people came together there in preparation for the attacks on the evening before August 2 1999.

A Tata truck with a GRN registration plate, which was driven by Samiyasa, was also at the meeting point at Makanga, and was used by Samiyasa to transport some of the would-be attackers to Katima Mulilo, some prosecution witnesses have claimed.

However, none of these witnesses have been able to point out Samiyasa in court as the person they were talking about when they mentioned his name.

Samiyasa is now being treated in the clinic of Windhoek Central Prison, Judge Hoff was told when he heard Sithole Mwenda's application on Tuesday and Wednesday last week.

Detective Chief Inspector Lisias Shimutwikeni, who is attached to the Namibian Police's high treason investigation unit, told the Judge on Tuesday that he had been to the prison to see Samiyasa earlier that day.

Shimutwikeni told the court that in his opinion, Samiyasa looked better than previously, when he had been "seriously sick".

A nurse working at the clinic, Nauyele Shalihu, also testified on Wednesday that Samiyasa's condition appeared to have improved.

She said Samiyasa had at one stage been helpless, unable to eat and "confused", but he is again orientated, able to walk, and can again wash himself.

But she also described his condition as "fluctuating", saying it has been varying between periods of improvement and deterioration.

She agreed with Sithole Mwenda that the diet Samiyasa was receiving at the prison clinic was not satisfactory, as he was not receiving the necessary quantities of especially vegetables and fruit, but also held firm that Samiyasa would in her opinion be better off in a prison environment where the needed medical treatment is available, rather than being kept at the Katima Mulilo Police station cells where such treatment is not readily available.

Better medical facilities might be available in Windhoek, but that cannot replace the emotional and material support from his family that Samiyasa needs at this time, Sithole Mwenda told the Judge.

The prosecution opposed Sithole Mwenda's request for an order that Samiyasa be transferred to Katima Mulilo.

In the current circumstances, Samiyasa would be better off in Windhoek, Deputy Prosecutor General Herman January argued.

He said there was no evidence before the court to show that Samiyasa's family would indeed support him emotionally and with food if he was transferred to Katima Mulilo.

Whether the court can make an order like the one Sithole Mwenda asked for is not yet clear either.

On a question from Judge Hoff, both January and Sithole Mwenda agreed that, unlike the South African Criminal Procedure Act, Namibia's version of the Act does not contain a section that gives a court certain powers to order that an accused person be kept in a certain place.

Judge Hoff is scheduled to give his ruling in the matter next week Thursday.

Twelve of the men who had initially been charged in the main Caprivi high treason case have already died in custody.

The last of these passed away in January last year.

None of the 119 men facing charges in the trial is free on bail.


Source: www.namibian.com.na
http://www.namibian.com.na/
Support Caprivi Freedom
Fill out the form below to become a member of this site and receive our regular newsletter.