News and Information
---
Schools in Caprivi flooded, evacuation of pupils starts
March 1, 2007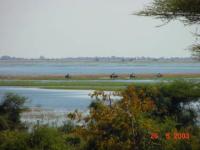 Schools in Caprivi flooded, evacuation of pupils starts

BRIGITTE WEIDLICH

THE level of the Zambezi River has risen to 7 metres, cutting off villages and schools in the Caprivi Region.


It was established yesterday that the authorities are evacuating more than 1 400 pupils and 49 teachers to safer areas where other schools can accommodate them.

Several tourism lodges are either cut off or have some bungalows submerged, forcing them to close down for the time being.

Staff members of the Emergency Management Unit (EMU), which falls under the Office of the Prime Minister, are monitoring the situation by boat, Gabriel Kangowa, Acting EMU Director, said yesterday.

"Apart from the 1 419 learners, we also evacuated a group of 59 families and brought them to Schuckmannsburg east of Katima Mulilo while we brought another 195 people to Lisikili," Kangowa told The Namibian yesterday afternoon.

"The Namibia Red Cross Society is also on the ground and started distributing water containers, water purification tablets and some tents," Kangowa added.

"About six metric tonnes of maize meal have been sent to the Caprivi Region and 400 mattresses will leave Thursday [today]."

Val Sparg, owner of Kalizo Lodge east of Katima, said access was only possible by boat, and her lodge had closed.

"It is quite a financial loss for us, but we will live with it.

The road east of Katima has very narrow pipes to let the floodwaters through, so the water has gone over the road," she told The Namibian.

The Zambezi Lodge on the riverbank at Katima Mulilo has not experienced any flooding.

"We are at the steep river bank, only our floating bar on the river is closed, because the gangway to it is submerged," said Anita Sibeso, a staff member.


Source: www.namibian.com.na
http://www.namibian.com.na/
Support Caprivi Freedom
Fill out the form below to become a member of this site and receive our regular newsletter.