News and Information
---
NBC's 'man on the ground' at Katima attacks testifies
February 20, 2007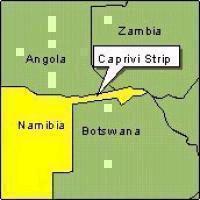 NBC's 'man on the ground' at Katima attacks testifies

WERNER MENGES

NAMIBIAN Broadcasting Corporation television presenter Moses Kandjoze got his turn in the witness box in the main Caprivi high treason trial in the High Court in Windhoek yesterday.

Seven and a half years after he was the first journalist to report the news that Katima Mulilo had been hit by armed attacks in the early morning hours of August 2 1999, Kandjoze has become the 93rd witness to be called by the prosecution to give evidence in the long-running main treason trial that flowed from those attacks.

Kandjoze told Judge Elton Hoff that he and an NBC cameraman, Simon Naeman, had driven to Katima Mulilo before the weekend that preceded August 2 1999 to cover the inauguration of a new traditional leader in the Caprivi Region.

Kandjoze also had something else on his mind, though, the court heard.

He said he had received a call from someone who told him that an attack on Katima Mulilo might be imminent.

Nothing happened the following day, but around midnight that Sunday evening, he woke up to the sound of gunfire, Kandjoze told the court.

He said he and Naeman were spending the night at a guesthouse next to the NBC building at Katima Mulilo.

Except for the shooting, he heard footsteps around the NBC building, he said.

"I was totally convinced that what was happening was the reason why I came to Katima Mulilo," Kandjoze said.

He told the court that the shooting died down at some stage, before it again flared up.

He and Naeman in the meantime tried to call the Katima Mulilo Police Station - one of the places that had come under attack that morning, it turned out - to find out what was going on, but no one answered the phone, he said.

At some stage Kandjoze ventured outside to check on the vehicle with which he and Naeman had travelled, he related.

As he walked past the car, he saw an armed man, wearing a dark-brown uniform, coming running around a corner, passing him apparently without seeing him, Kandjoze testified.

In the hours that followed, Kandjoze was to have another three uncomfortably close encounters with unknown men on the grounds of the NBC premises, the court heard.

According to Kandjoze he again ventured out some time after 05h00.

This time, he said, he saw someone standing under a tree, wearing what looked like a camouflage headdress of leaves.

Kandjoze said he once more retreated to the safety of his and Naeman's room.

By 05h50, he was in telephone contact with the NBC radio studios in Windhoek, sending out the first media report on the attacks at Katima Mulilo.

"When I spoke on the radio I said Katima is under attack," Kandjoze recalled in his testimony.

After his first telephone report on NBC radio was over, day was breaking at Katima Mulilo.

Again Kandjoze left their room to have a look outside, he said.

This time, he encountered "this gentleman with a gun", who was pointing a firearm at him.

Kandjoze said he raised his hands, turned around and walked back to the room, asking the gunman not to shoot but "expecting a bullet in my back at any moment".

By about 07h30, Kandjoze once again left the room and walked to the front door of the NBC building.

He said he was feeling if the front door was locked when someone standing under a tree called out to him, wanting to know who he was.

Kandjoze said the person was pointing an AK47 rifle at him, and he decided to hide his identity as an NBC employee, and instead told the man that he was just taking a shortcut through the premises.

The man ordered him to leave, and Kandjoze ran off, jumping over a wall in his rush to get away from the NBC building, he related.

As he ran off, Naeman, who was also running from the NBC premises, joined him.

By around 09h00, he phoned Windhoek again to give another report on the situation at the town.

When he made another call after that, he was told that his calls would have to be censored - a step that left him "a little bit disturbed", he said.' Namibia Defence Force officers questioned him about the situation in the NBC offices during the course of that day, Kandjoze said.

According to his testimony, the NDF wanted to destroy the building to make sure that no armed "rebels" remained hiding inside.

Kandjoze said he argued that it would not make sense to destroy a national asset, and in the end the NDF members decided to blow a hole in the wall and throw in teargas canisters to drive out anyone hiding inside.

Kandjoze's testimony was wrapped up with little cross-examination yesterday.


Source: www.namibian.com.na
http://www.namibian.com.na/
Support Caprivi Freedom
Fill out the form below to become a member of this site and receive our regular newsletter.