News and Information
---
TV cameraman testifies in Caprivi treason trial
January 22, 2007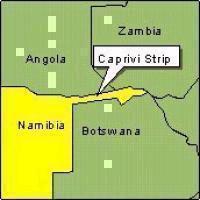 TV cameraman testifies in Caprivi treason trial

WERNER MENGES

A NAMIBIAN Broadcasting Corporation television cameraman last week became the latest prosecution witness to testify in the marathon main Caprivi high treason trial.

Simon Naeman on Tuesday entered the witness box in the High Court building on the grounds of Windhoek Central Prison as the 88th prosecution witness to testify in the trial before Judge Elton Hoff.

His testimony started off on a wobbly note.

Within minutes after he had been sworn in as a witness, an objection from defence counsel Jonathan Samukange had Naeman being caught out like a schoolboy exam cheat.

He was forced to confess that he had written a note on his hand to help him remember a name that he wanted to mention in his evidence.

That was the name of Chief George Simasiku, whose inauguration as a traditional chief Naeman said he and a colleague were sent to cover for NBC TV at the end of July 1999.

MEMORY & LAUGHTER Naeman had the court breaking out in laughter with an answer he gave on Wednesday when he was asked what he had actually written on his hand.

It was a symbol, meant to remind him of the name he had trouble remembering, he said.

The "symbol" was "MCU", he added when pressed further on the issue.

"And that represents?" asked Judge Hoff.

"Simasiku," Naeman answered, drawing incredulous laughter from all sides of the court.

Naeman had earlier told the court that he and a colleague, reporter Moses Kandjoze, slept in a guesthouse next to the NBC building at Katima Mulilo on the evening after they had been to Sangwali in the Caprivi Region to report on the inauguration of Chief Simasiku.

In fact, the chief had been inaugurated on April 18 1999 already, Samukange claimed when he cross-examined Naeman on Wednesday.

During the night after the inauguration they had covered - this must have been on August 2 1999, although Naeman seemed to have trouble remembering the month - they woke up from the sound of gunfire, Naeman said.

They ventured out of their room only after daybreak, and approached the NBC building to check if anything was going on there, he related.

Kandjoze, who was walking in front of him, suddenly stopped in his tracks at the entrance door of the building.

In front of them, said Naeman, they saw a young man, armed with an AK47 rifle and with a strip of red cloth tied around his head.

The man asked them who they were and what they were doing there, and then told them to leave quickly.

They hurried off, jumping over the wall around the NBC premises in their rush to get away, Naeman said.

They later came across two Police officers in the town.

They reported to them that they had encountered an armed man at the NBC building, he said.

With occasional gunfire still being heard in the town at that time of the day, they at one stage ran to take cover next to the Bank Windhoek building in the town centre.

Nearby, said Naeman, he saw people lying dead next to a white vehicle.

One of the dead was dressed in a Namibia Defence Force uniform.

Alleged separatist attackers are claimed to have killed three NDF members in the Katima Mulilo town centre during the attacks of August 2 1999.

Some time after he had seen the dead people in the town, he saw NDF soldiers firing shells and teargas into the NBC building, Naeman said.

Video footage about an hour in length that Naeman said he had shot at Katima Mulilo on the day after the attacks were also shown to the court on Tuesday.

TV FOOTAGE Much of the footage was devoted to the damage that had been done to the NBC building - by the NDF rather than anyone else, according to Naeman's testimony - while other footage was shot at the Katima Mulilo Police station, the town's hospital, and the Mpacha military base near the town.

At the hospital, one of a number of wounded people who were shown in the footage being interviewed by the NBC crew told them that he had been shot by the NDF - a fact that defence counsel Samukange and Greyson Nyoni rubbed in when they cross-examined Naeman on Wednesday.

At Mpacha, material that was claimed to have been captured from attackers who were caught at the base - including weaponry, food and alleged witchcraft muti - was shown being displayed for the benefit of the NBC's TV camera.

Not included amongst these items, Samukange pointed out, was any notebook or plan of places that were supposed to be attacked on August 2 1999.

Two pages containing handwritten lists of names, allegedly of people assigned to take part in the attacks, were submitted to Judge Hoff in November last year as evidence that is claimed to have been found at Mpacha after the attacks.

One of these lists was written on the back of a letter that had been addressed to Bennet Mutuso, who is one of the high treason suspects that Samukange is representing in the trial.

He was not shown such notes when he filmed material at Mpacha, but he would not be able to say whether such items were actually there or not, Naeman told the court.

Naeman finished testifying on Thursday.

The trial is scheduled to continue with the testimony of the 89th State witness today.


Source: www.namibian.com.na
http://www.namibian.com.na/
Support Caprivi Freedom
Fill out the form below to become a member of this site and receive our regular newsletter.