News and Information
---
Zambezi's level rises
January 15, 2007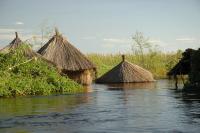 Zambezi's level rises

BRIGITTE WEIDLICH

THE Zambezi River is high for this time of the year - 1,37 metres at Katima Mulilo yesterday - up three centimetres from Saturday - and high water levels are expected to reach the Caprivi this week.

According to the Zambian Meteorological Department, above-normal rains in the upper catchment of the Zambezi have been received in Zambia since mid-December.

At Chavuma near the Angolan border, Lukulu in the Barotse floodplains and Ngonye upstream of Katima Mulilo, the Zambezi River has been rapidly rising in Zambia, said Guido van Langenhove of the hydrology department of Namibia's Ministry of Agriculture yesterday.

"It normally takes two to three weeks before the Lukulu trend appears at Katima Mulilo," Van Langenhove said in a report.

"During the second half of January, the Zambezi River is therefore also expected to show an early and quick rise along the Namibian border, and the inundation of the floodplains in the eastern part of the Caprivi Region might start much earlier than is normally the case."

"It is, however, too early to anticipate the magnitude of the annual flood in that area.

Other years with a similar early rise had fairly normal floods, while in 2004, when the last very high flood occurred [in the Caprivi], the level was much lower this time of the year.

Close monitoring and early readiness for high floods in the Zambezi area are warranted."


Source: www.namibian.com.na
http://www.namibian.com.na/
Support Caprivi Freedom
Fill out the form below to become a member of this site and receive our regular newsletter.