News and Information
---
Zambezi fishing ban
December 26, 2006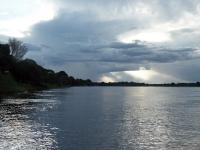 Zambezi fishing ban

BRIGITTE WEIDLICH

ALL fishing in the 2 000-kilometre-long Zambezi River has been banned until the end of January 2007 after it was discovered that the river is highly polluted with bacteria that cause potentially fatal food poisoning.


Fisheries Minister Abraham Iyambo visited the Caprivi Region together with Health Minister Richard Kamwi last Wednesday.

They met with Government officials, community leaders and representatives of the tourism industry to discuss the problem after local communities had reported finding fish with deformities and infested with worms.

Samples of fish and Zambezi water were sent to a laboratory, where a high concentration of Escherichia coli (e.coli) bacteria was detected.

The fishing ban was confirmed by the Ministry yesterday.

"The decision was made following the laboratory report," the Ministry's spokesperson, Albert Mbanga, told The Namibian.

"Minister Iyambo told the meeting that this was a necessary measure."

The laboratory report stated that the pollution could come from human faeces, since the villages along the river have no sewer systems.

"We also informed our neighbouring countries like Zambia, Zimbabwe, Botswana and Mozambique," Mbanga said.

The fishing ban applies to the whole length of the Zambezi River.


Source: www.namibian.com.na
http://www.namibian.com.na/
Support Caprivi Freedom
Fill out the form below to become a member of this site and receive our regular newsletter.