What is CapriviFreedom.com?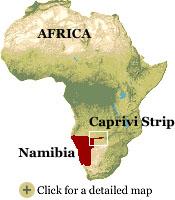 This is the United Democratic Party- (UDP) site. Whose intention is to inform and educate the world namely; NGOs, govts, and individuals about the struggle of the Caprivian people for self-determination and independence of their Motherland- CAPRIVI STRIP.

LOCATION ON THE WORLD MAP .

Caprivi Strip currently falls under Namibia, but it is a territory that has demarcated borders. It lies about half way between the equator and the Southern tip of Africa and mid way between the Atlantic and Indian oceans. The Caprivi Zipfel commonly known as Caprivi Strip shares boarders with Angola in the North West/ Botswana in the South, Namibia in the West and Zambia in the north. Caprivi Zipfel (Strip) and its neighboring countries have natural boundaries such as the river Zambezi, Chobe, Linyanti and Okavango. Katima Mulilo is the Capital of the Caprivi Strip.

To view the full document do the following: Highlight this Link, Right Click and Select Go to/Open Link - http://www.caprivifreedom.com/history.i?cmd=view&hid=28
| | |
| --- | --- |
| Support Caprivi Freedom | Events |
| Support Caprivi Freedom by becoming a member of this site. It is completely FREE. By signing up you will be added to our weekly newsletter list. Use the form on the right to sign up. | |
Recent News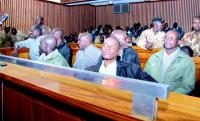 CAPRIVIANS in the Namibian prisons, held for their Political opinion and ambitions to Self-determination of the Caprivi Strip, have made an appeal to the international peace loving countries and the United nations. To create a peaceful platform for the Caprivi Strip Self determination and independence from Namibia. The namibian government have since failed and ignored the plight of the Capriivian's political right, to table the issue and have it resolved peacefully.
News and Information
Caprivi Strip – annexed by force
February 16, 2017
Caprivi Strip – annexed by force

We have written many a time in these passed years about our struggle against the evil forces of Namibia. At all times we have been driving a message across that Caprivi Strip is not, was not and has never been part of what is called Namibia today. These are facts of history that any reasonable human being will be able to understand. It appears though that we are dealing with different human beings who only understand the language that they speak, they do not ... Click for more


New Year Message 2017
January 1, 2017
New Year Message 2017

I appeal to the people of the Caprivi Strip at home and abroad as we enter the new year at the same time we are entering the 18th year away from our motherland, the Caprivi Strip; away from our families for the reason that our country was invaded by aliens. Aliens whom we have nothing in common be it tradition, custom, language and culture. These aliens who happen to come from German South West Africa have Hitler type mind to occupy, kill and torture the Caprivians, the ... Click for more


PRESS STATEMENT
December 17, 2016
Press statement

I hereby inform all the people of the Carpivi at home and abroad that with immediate effect Crispin Mazila Mutoiwa is no more acting secretary of information for UDP. He is also not allowed to write, speak in any official capacity on behalf of the party UDP with immediate effect 05-12-2016. This information should also apply to all national and international organizations that have been supporting and continue to support our struggle.

Mishake Muyongo
President UDP ... Click for more


Support Caprivi Freedom
Fill out the form below to become a member of this site and receive our regular newsletter.