What is CapriviFreedom.com?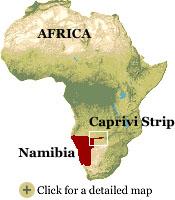 This is the United Democratic Party- (UDP) site. Whose intention is to inform and educate the world namely; NGOs, govts, and individuals about the struggle of the Caprivian people for self-determination and independence of their Motherland- CAPRIVI STRIP.

LOCATION ON THE WORLD MAP .

Caprivi Strip currently falls under Namibia, but it is a territory that has demarcated borders. It lies about half way between the equator and the Southern tip of Africa and mid way between the Atlantic and Indian oceans. The Caprivi Zipfel commonly known as Caprivi Strip shares boarders with Angola in the North West/ Botswana in the South, Namibia in the West and Zambia in the north. Caprivi Zipfel (Strip) and its neighboring countries have natural boundaries such as the river Zambezi, Chobe, Linyanti and Okavango. Katima Mulilo is the Capital of the Caprivi Strip.

To view the full document do the following: Highlight this Link, Right Click and Select Go to/Open Link - http://www.caprivifreedom.com/history.i?cmd=view&hid=28
| | |
| --- | --- |
| Support Caprivi Freedom | Events |
| Support Caprivi Freedom by becoming a member of this site. It is completely FREE. By signing up you will be added to our weekly newsletter list. Use the form on the right to sign up. | |
Recent News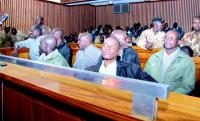 CAPRIVIANS in the Namibian prisons, held for their Political opinion and ambitions to Self-determination of the Caprivi Strip, have made an appeal to the international peace loving countries and the United nations. To create a peaceful platform for the Caprivi Strip Self determination and independence from Namibia. The namibian government have since failed and ignored the plight of the Capriivian's political right, to table the issue and have it resolved peacefully.
News and Information
GOVERNMENT OF NAMIBIA'S "ILLEGAL FORCED OCCUPATION OF THE CAPRIVI STRIP" A CRIME AGAINST HUMANITY.
April 29, 2016
GOVERNMENT OF NAMIBIA'S "ILLEGAL FORCED OCCUPATION OF THE CAPRIVI STRIP" A CRIME AGAINST HUMANITY.

It is high time that African governments should be held accountable for the crimes perpetrated against their fellow countrymen and minorities. I say that, Namibia must be one of those countries to face the International Court of Justice because of the atrocities and other crimes they committed in the Caprivi Strip. For SWAPO to deliberately hold hostage the people of Caprivi Strip and those from ... Click for more


CHARLES MUBITA"S "IMAGINARY ZAMBEZIA AND IMPERIAL CARTOGRAPHY" ARTICLE.
March 31, 2016
CHARLES MUBITA"S "IMAGINARY ZAMBEZIA AND IMPERIAL CARTOGRAPHY" ARTICLE.

The saying that history builds our future has always been true, at least, to most humans. We know that as a people, we are the ultimate guardians of our liberty and it is history that qualifies us to judge the actions and designs of men. For those who were fortunate enough to achieve a degree of high purpose, like a PhD, they need to use their academic knowledge to think independently about problems even in unfamiliar ter ... Click for more


OBITUARY FOR THE LATE JESSICA MUTOIWA
February 18, 2016
JESSICA LUTAUZI MUTOIWA (MAHOTO)


Jessica Mutoiwa was born at Kanono village on December 14 1964 and died on December 13, 2015. She grew up in the same village and as a promising young girl, she started her primary education at Kanono Primary School and later in the years was taken by his surviving brother who was Principal at Simataa secondary school to further attend her senior primary education year at Chinchimane. The following year1979 her late sister who was a teacher at Kasheshe pri ... Click for more


Support Caprivi Freedom
Fill out the form below to become a member of this site and receive our regular newsletter.